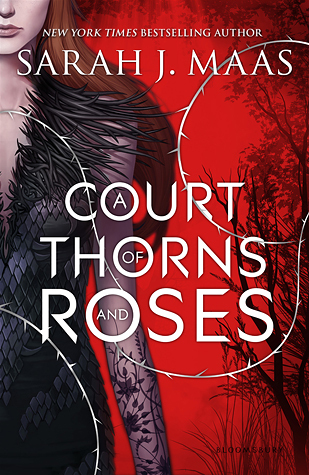 A Court of Thorns and Roses (A Court of Thorns and Roses #1)
Page Number: 416
Genre: Fantasy
Publication Date: May 5, 2015
Synopsis from Goodreads:
A thrilling, seductive new series from New York Times bestselling author Sarah J. Maas, blending Beauty and the Beast with faerie lore.

When nineteen-year-old huntress Feyre kills a wolf in the woods, a beast-like creature arrives to demand retribution for it. Dragged to a treacherous magical land she only knows about from legends, Feyre discovers that her captor is not an animal, but Tamlin—one of the lethal, immortal faeries who once ruled their world.

As she dwells on his estate, her feelings for Tamlin transform from icy hostility into a fiery passion that burns through every lie and warning she's been told about the beautiful, dangerous world of the Fae. But an ancient, wicked shadow grows over the faerie lands, and Feyre must find a way to stop it . . . or doom Tamlin—and his world—forever.

Perfect for fans of Kristin Cashore and George R. R. Martin, this first book in a sexy and action-packed new series is impossible to put down!

My Review:
Well, well, well. Today I'm going to be reviewing a book you may or may not have heard of, it's totally not hyped up by bloggers and bookish people.
Wow. What...a...difference.
I can't say I preferred this over TOG (Throne of Glass), because Throne of Glass is more badass YA style, which I prefer, but this is certainly good.
Interesting plot, however, the plot, like most people said, was pretty, slow. The book really picked up in the last, 150 pages or something, but the beginning, was basically steamy hot romance. In the beginning, I thought that this book would have action packed scenes with betrayal and suspense...but I got...steamy hot dude.
The characters didn't really impress me that much, because I preferred Lucien more than Tamlin (I know, i know...please don't kill me). I just felt like Tamlin was sort of a generic hot guy, I mean, he did have some special things, but seriously, he's just the same as every other hot guy. Lucien actually had a good personality, with an interesting backstory, and HE'S FUNNY. His humor is just...beautiful. <3
I expected Feyre to be this badass girl, sort of like a mixture of Katniss Everdeen and Celaena Sardothein...but really, she wasn't that amazing. She didn't have Katniss's amazing hunting skills, or Celaena's badassry. And her FAMILY. HER OLDER SISTER IS SUCH A HERA*, oh gods. She didn't do anything, and I felt sort of bad for Feyre but still. I just...urghhh. Rhysand creeped the hell out of me, I find him really creepy.
Action wise, this book didn't blow me away, but it did have some pretty tense parts, which, of course, were my favorite.
In conclusion, this book would be really, really, good, IF it didn't have so much hype surrounding it. However, given the hype, this book did disappoint me a bit.
*-Hera means b*tch, I'm trying to stop cussing, failing terribly. le sigh
.
Final Rating:
❄❄❄❄
♡

Beatrice