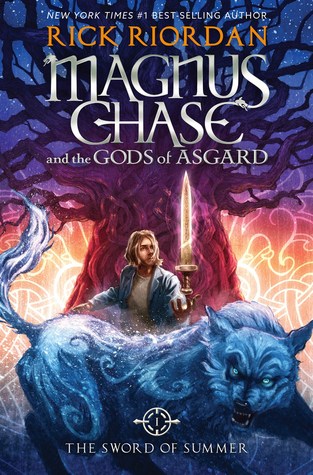 The Sword of Summer
(Magnus Chase and t

he Gods of Asgard

#

1

)
Page Number: 528
Genre: Fantasy
Publication Date: October 6, 2015
Synopsis from Goodreads:
Magnus Chase has always been a troubled kid. Since his mother's mysterious death, he's lived alone on the streets of Boston, surviving by his wits, keeping one step ahead of the police and the truant officers.

One day, he's tracked down by a man he's never met—a man his mother claimed was dangerous. The man tells him an impossible secret: Magnus is the son of a Norse god.

The Viking myths are true. The gods of Asgard are preparing for war. Trolls, giants and worse monsters are stirring for doomsday. To prevent Ragnarok, Magnus must search the Nine Worlds for a weapon that has been lost for thousands of years.

When an attack by fire giants forces him to choose between his own safety and the lives of hundreds of innocents, Magnus makes a fatal decision.

Sometimes, the only way to start a new life is to die . . .
My Review:
Words can't even express my excitement for The Sword of Summer. Riordan is, and will always be one of my favorite authors...but his two latest books fell flat-ish for me. Riordan's not losing his touch, by any means. It's just...time to get a-move on...
But that doesn't mean I hated The Sword of Summer. I enjoyed it nevertheless. The chapter titles were hilarious (especially the one with Jason Grace), and the characters were enjoyable as usual. The Annabeth cameos were by far the most anticipated, and probably my favorite parts.
Magnus is snarky and sarcastic, and although his sarcasm far from Percy's level (Persassy FTW), but it's up there. And it makes everything 10x more hilarious. One thing Magnus lacks is character. Yes, he's sarcastic and snarky, but other than that, there's pretty much nothing going on for him. He's just...Percy.! Sam and some of his other buddies helped too. I especially loved Blitzen.
I went into this knowing extremely little about the Norse gods, and although this did inform me a ton more, it info-dropped a lot. Not completely, but a lot. I found myself referring back to the back of the book, which explained which levels were which, as I got them confused a lot.
The plot was standard Riordan, and I've come to peace with it. People might argue that it's predictable and simple and not original, but I've gotten so used to it, and it hurts to give Riordan's books less than a 3 star rating. They were my childhood. Besides, I like the classic Riordan plot. Ordinary boy/girl finds that they are special, then they come to this fabulous new place, find that they're destined for something great (or bad), and go on a quest, etc, etc. It's strangely warming.
Final Rating: