*image via bookvibes on instagram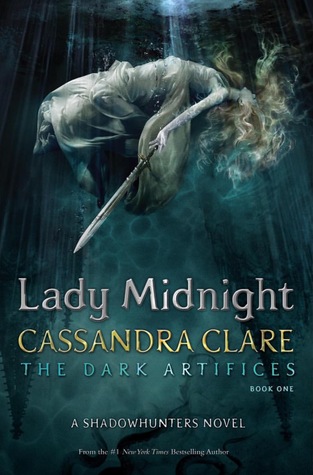 Lady Midnight (The Dark Artific

es #1

)
By: Cassandr

a Clare

(@cassieclare)
Published By: Margaret K. McElderry Books on March 8, 2016
Genre:
Fantasy
Pages:
720
Goodreads // Book Depository
The Shadowhunters of Los Angeles star in the first novel in Cassandra Clare's newest series, The Dark Artifices, a sequel to the internationally bestselling Mortal Instruments series. Lady Midnight is a Shadowhunters novel.

It's been five years since the events of City of Heavenly Fire that brought the Shadowhunters to the brink of oblivion. Emma Carstairs is no longer a child in mourning, but a young woman bent on discovering what killed her parents and avenging her losses.

Together with her parabatai Julian Blackthorn, Emma must learn to trust her head and her heart as she investigates a demonic plot that stretches across Los Angeles, from the Sunset Strip to the enchanted sea that pounds the beaches of Santa Monica. If only her heart didn't lead her in treacherous directions…

Making things even more complicated, Julian's brother Mark—who was captured by the faeries five years ago—has been returned as a bargaining chip. The faeries are desperate to find out who is murdering their kind—and they need the Shadowhunters' help to do it. But time works differently in faerie, so Mark has barely aged and doesn't recognize his family. Can he ever truly return to them? Will the faeries really allow it?

Glitz, glamours, and Shadowhunters abound in this heartrending opening to Cassandra Clare's Dark Artifices series.
"Lex malla, lex nulla. A bad law is no law."
I wasn't even sure I was going to pick this one up, since I wasn't particularly fond of the last three books of Clare's Mortal Instruments series, but I still picked it up. THANK GOD FOR THAT. Cassandra Clare has grown so much as an author, and this book definitely reflected that. Lady Midnight was jam-packed with amazing characters, a fabulous plot, and an extremely EXTREMELY amazing romance that was also painful to read and broke my heart into a million gazillion pieces.
The characters were all just so much fun, and the Blackthorns may just be my favorite Shadowhunter family. YA Fiction just doesn't have enough family themes (HELLOOOOOOOO, YA FICTION!! WE LOVE THIS SO PLEASE ADD IT AND DON'T KILL OFF THE PARE

NTS!!!

) ALL OF THEM JUST LOVE EACH OTHER SO MUCH AND IT'S JUST LIKE I LOVE THEM ALL. It pained my heart to see how Julian took care of ALL of them and loved ALL of them. I

l

oved some of the relationships between some of them. I adored Ty and Livvy, and how much Livvy does for her twin. Dru holds a special place in my heart; she's so much more different from the rest of them. Tavvy was super adorable and I loved his innocent little h

eart.
Cristina and Emma's relationship was #bestfriendgoals, and I loved how Emma how had a girlfriend to talk to. Cristina is like the steady rock to Emma's life, and basically everyone else

as well, and they just supported each other so well. The conversations they have together are just sassy and sarcastic and just absolute

ly hilarious.
The plot was so amazingly awesome and thought-out and just so much BETTER than her previous novels. Except for Clockwork Princess though. *

cries*
SPOILER SECTION!!! IF YOU HAVEN'T READ LADY MIDNIGHT YET, GO READ IT!!! AND THEN COME BACK. SERIOUSLY. YOU DO NOT WANT

TO BE SPOILED!
_________________________________________________________________________________
Um, can we just talk about Julian and Emma's relationship? It was the most heartbreaking thing I've ever read. I mean, from the beginning, we just know that they're going to get together, DUH. Cassandra Clare has this forbidden love thing going on that I just can't help but fall for. ALSO IN THAT STUDIO OF JULIAN'S - when he was like NO ONE CAN COME IN, I just knew that those were pictures of Emma. And his short speech to Emma about love and what he thought of it was just

incredible

. <3 <

3 <3.
Did anyone suspect Malcolm Fade as being the murderer? I think I guessed that pretty close to when they were guessing it, so I don't think I'm much better ._. I did NOT see that coming. Magnus was just a trustable warlock, that I suppose we have this weird connatation that warlocks are good. I guess Cassie proved us wrong, once again

.
Can we just talk about the potential love triangle that might h

appen?

Is there going to be some Mark, Kieran, Cristina (wait, there's Perfect Diego. I guess she's out), and Emma love triangle going on? Or maybe Julian, Mark, and Emma love triangle? AT THE END, I COULD

NOT

believe that Emma Carstairs was asking Mark to be her fake boyfriend. Like, Mark and Julian's relationship isn't like perfect or anything, so ARE YOU TRYING TO MAKE IT WORSE?!?! I did think that Kieran tended to be a little clingy, and that made him lose major points in my shipping book. Also, did anyone ship Cristina and Mark even though Kieran was there. I did, until Perfect Diego came. OH THE SHIPS. SO MANY OF THEM

!!!!!!!!!!!!!!!!!
Kit being the Lost Herondale, eh? I thought that was a bit random, and that it was just randomly put in there, but I hope he has like...a purpose...in the next book. ALTHOUGH I DID SEE THIS THEORY:

TY AND KIT

...eh? Clare might add another LGBT+ couple!!! :) I see it. I do. Although them becoming parabati wouldn't be my first choice, I would still love it, even if inside, I'm crying for Livvy because if they do become parabati, she's probably get like SUPER upset (I'm talking depres

sed upset.

)
I STILL WISHED THAT THEY EXPLAINED MORE ABOUT WHY PARABATI CAN'T BE LIKE, IN LOVE LOVE LIKE THAT. Jem explained it a little in the end, and it just broke my heart. Julian and Emma are just like perfect for each other. I HAVE MANY THEORIES ABOUT HOW JULIAN x EMMA WILL WORK OUT, OKAY (Is it Jemma or Jula, or Eulian or Emmlian or whatever TELL ME WHAT YOU THIN

K IT IS

. (um, I'm talking about their ship name if you didn't know. i can be confusing at times

._.

))
The

ory 1:
They take away that law but the parabatis must go through extensive trai

ning to learn how to control their powers.
Theory 2: Julian and Emma get rid of their parabati-ness (idk how this is supposed to happen ?!), Emma and Cristina become parabati, Julian and Emma can get to

gether.
T
heory 3:
They take away their

S

hadowhunter-ness. I know.
❄❄❄❄❄