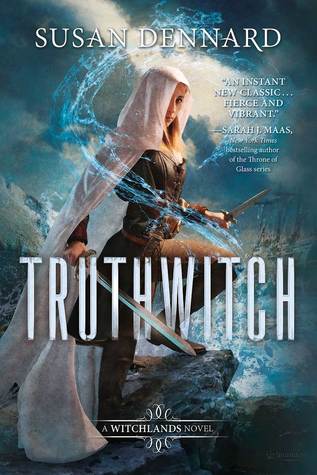 Truthwitch

(The

Witchlands #1)
By: Susa

n Dennard

(@stdennard)
Published By:
Tor Teen
on

January 5

, 201

6
Genre:
Fantasy
Pages:
416
Goodreads // Book Depository
In a continent on the edge of war, two witches hold its fate in their hands.

Young witches Safiya and Iseult have a habit of finding trouble. After clashing with a powerful Guildmaster and his ruthless Bloodwitch bodyguard, the friends are forced to flee their home.

Safi must avoid capture at all costs as she's a rare Truthwitch, able to discern truth from lies. Many would kill for her magic, so Safi must keep it hidden - lest she be used in the struggle between empires. And Iseult's true powers are hidden even from herself.

In a chance encounter at Court, Safi meets Prince Merik and makes him a reluctant ally. However, his help may not slow down the Bloodwitch now hot on the girls' heels. All Safi and Iseult want is their freedom, but danger lies ahead. With war coming, treaties breaking and a magical contagion sweeping the land, the friends will have to fight emperors and mercenaries alike. For some will stop at nothing to get their hands on a Truthwitch.
"Sometimes justice was all about the small victories."
Truthwitch was the highly, highly hyped up novel of January 2016. I wasn't particularly impressed with Dennard's other novel, Something Strange and Deadly, but the amount of buzz that came with Truthwitch was just literally insane. Sarah J. Maas blurbed this book, which I do suppose is because she is Susan Dennard's BFF or something.
One of the main things that sold me in this novel was the friendship aspect. Fantasy is missing this friendship aspect, and I'd like to see more of it! Our two main characters, Safiya (Safi) and Iseult, are Threadsisters, meaning that they are like BFFs. I like to refer to Threadsisters sort of like parabati. Safi is just plain stubborn and reckless. She often put the two into loads of trouble (even from the beginning) and just got on my nerves. Iseult, on the other hand, had more maturity and was more badass and actually did things with a purpose. Her chapters were also more enjoyable and fun.
Dennard doesn't seem to have the elegant writing style that some authors do, but she does have a fast-paced, compelling style that I seem to enjoy. She also writes extremely snarky and wonderfully sarcastic dialogue that I just can't help but fall for. Safi has a bold personality, which may be the reason for her recklessness, and whenever she and Iseult are talking, I'm bound to be laughing at one of her comments.
Sadly, the world building was horrific. I think I've read enough fantasy novels in which there is an elemental magic system (fire, water, air, earth, aether), and none of them seem to be my cup of tea. This book had so many complicated names and places, it got hard to follow. If there was a guide in the front, perhaps, explaining everything, maybe I'd be okay. ALSO - number of different witch types were absurd. There were like SO MANY and I'm just the type of person who needs to know them ALL. Again, I'd like a book separate just explaining. The magic system also wasn't explained very well. How does one become a witch? Is everyone a witch? There also did happen to be a map in the front although it didn't help much. It was pretty, though! :)
I like Prince Merik, and I enjoyed the romance in this novel, but I just felt like it romance was a bit random. It wasn't exactly instalove, but it was close, as when they first meet, they sort of catch each other's eye and stuff. I adored their love-hate relationship, although it's a bit strange. I'm still rooting for #SAFRIK? #MERFI? It might even be a love triangle with that other guy. *cough*
Overall, Truthwitch was a highly entertaining novel with great pacing. It's not the perfect fantasy, but it's tolerable and enjoyable. I can't wait for the sequel!!
❄❄❄❄