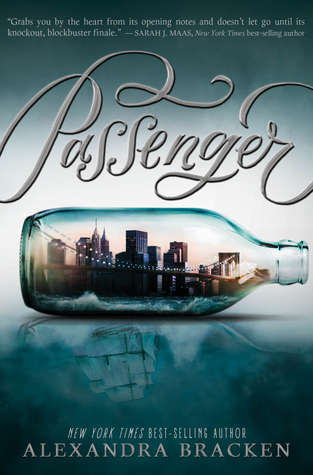 Passenger
(

Passenger

#1)
By: Alexandra Brac

ken

(@alexbracken)
Published By:
Disney Hyperion
on

January 5

, 201

6
Genre:
Fantasy
Pages:
486
Goodreads // Book Depository
Passage, n.
i. A brief section of music composed of a series of notes and flourishes.
ii. A journey by water; a voyage.
iii. The transition from one place to another, across space and time.

In one devastating night, violin prodigy Etta Spencer loses everything she knows and loves. Thrust into an unfamiliar world by a stranger with a dangerous agenda, Etta is certain of only one thing: she has traveled not just miles but years from home. And she's inherited a legacy she knows nothing about from a family whose existence she's never heard of. Until now.

Nicholas Carter is content with his life at sea, free from the Ironwoods—a powerful family in the colonies—and the servitude he's known at their hands. But with the arrival of an unusual passenger on his ship comes the insistent pull of the past that he can't escape and the family that won't let him go so easily. Now the Ironwoods are searching for a stolen object of untold value, one they believe only Etta, Nicholas' passenger, can find. In order to protect her, he must ensure she brings it back to them—whether she wants to or not.

Together, Etta and Nicholas embark on a perilous journey across centuries and continents, piecing together clues left behind by the traveler who will do anything to keep the object out of the Ironwoods' grasp. But as they get closer to the truth of their search, and the deadly game the Ironwoods are playing, treacherous forces threaten to separate Etta not only from Nicholas but from her path home... forever.
"It's our choices that matter in the end. Not wishes, not words, not promises."
Sadly, the highly anticipated and hyped Passenger, unfortunately, did fall a tiny bit short for me. If it had been a normal YA novel, I may have loved it, but this just did not meet my expectations. *cries in corner* Despite this, Passenger was still chock-full of of fun and adventures. I had lots of fun reading this, and I'm extremely excited for the upcoming sequel, Wayfarer.
Passenger follows Etta, an aspiring violinist (or maybe she already is one). I loved reading about the violinists that my mother is obsessed with. (I play piano, but my sister plays violin, so I get to hear about them.) Suddenly, she gets whisked into this world of time travel, and stuff happens. When we first arrive, we meet Sophia Ironwood, who strikes me as a bit funny.
Speaking of characters, let's talk about Etta. I knew she was going to kick butt and stuff (come on, this is YA), but she's a genuine person. Reading how she gave up all her social life, a boyfriend, and everything just for violin just broke my heart. She may not be the strongest YA heroine, but I truly do admire her. Nicholas was also a surprising character. For one thing, he's a POC, which I don't find very often in the love interests in YA fantasy, but he felt a bit dull comparing him to Bracken's previous male interest. Too much time was spend describing him, and not enough seeing him in action. The romance in this novel is driven a bit too quickly for my taste, as they sort of fall in love at first sight, but it's enjoyable, and not the main aspect, so I'm fine with it.
Can we just admire the plot, because the plot is just SPOT-ON. Bracken weaves together a brilliant story that was surprising and very well done. Time travel novels, most of the time, having me half sleeping by the end, because they're just so confusing. Either the fact that it's explained too much, or it's just not explained at all. All the questions, I had answered. *claps*
Although this novel is slow paced, similar to the Darkest Mind's trilogy, it was a beautifully done adventure with an amazing, intricate and well thought out plot that captures the beauty of time travel in a clear way. I am more than excited for the coming sequel!
❄❄❄❄.5