Most Anticipated Books of 2015!
As the title states, I'm doing the most anticipated books of 2015, for me, at least.
I will not cover any of the books that have already been released, but that does not mean that I did not anticipate them.
All this information comes from Goodreads, which you can follow me or add me as a friend. Click this link.
Expected Publication: October 6, 2015
Carry On
By: Rainbow Rowell
Thoughts:
OMG!! It's actually happening? They're creating the fanfic Cath wrote? That's incredible. Since it's based off Harry Potter, and I love Harry Potter, I can't wait to read this!!
Summary on Goodreads:
Simon Snow just wants to relax and savor his last year at the Watford School of Magicks, but no one will let him. His girlfriend broke up with him, his best friend is a pest, and his mentor keeps trying to hide him away in the mountains where maybe he'll be safe. Simon can't even enjoy the fact that his roommate and longtime nemesis is missing, because he can't stop worrying about the evil git. Plus there are ghosts. And vampires. And actual evil things trying to shut Simon down. When you're the most powerful magician the world has ever known, you never get to relax and savor anything.

Carry On is a ghost story, a love story, a mystery and a melodrama. It has just as much kissing and talking as you'd expect from a Rainbow Rowell story — but far, far more monsters.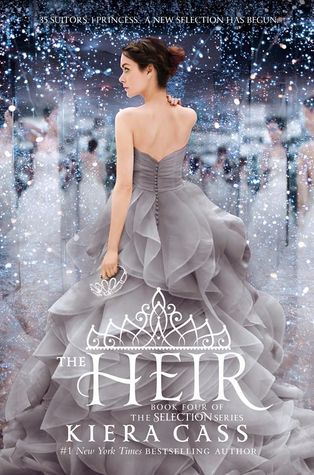 Expected Publication: May 5, 2015
The Heir (The Selection, #4)
By: Kiera Cass
Thoughts:
The cover, like always, is gorgeous. I'm interested to see how it will go, with all the caste removals and what not. I'm also interested to see how it is with guys as the Selected, rather than girls, which will be quite interesting.
I don't have much about this book, but I'm still interested! :)
Summary from Goodreads:
Twenty years ago, America Singer entered the Selection and won Prince Maxon's heart. Now the time has come for Princess Eadlyn to hold a Selection of her own. Eadlyn doesn't expect her Selection to be anything like her parents' fairy-tale love story. But as the competition begins, she may discover that finding her own happily ever after isn't as impossible as she always thought.
Expected Publication: October 6, 2015
The Rose Society
(The Young Elites, #2)
By: Marie Lu
Thoughts:
I enjoyed The Young Elites, and it was SO different from Legend...just whoa. I was mind blown. And it ended on a cliffhanger, so I'm so pumped for this book. Marie Lu, as one one of my favorite authors, will probably make this amazing (YOU BETTER) No cover though. :(
Summary from Goodreads:
Once upon a time, a girl had a father, a prince, a society of friends. Then they betrayed her, and she destroyed them all.

Adelina Amouteru's heart has suffered at the hands of both family and friends, turning her down the bitter path of revenge. Now known and feared as the White Wolf, she and her sister flee Kenettra to find other Young Elites in the hopes of building her own army of allies. Her goal: to strike down the Inquisition Axis, the white-cloaked soldiers that murdered her love, the Crown Prince Enzo Valenciano.

But Adelina is no heroine. Her powers, fed only by fear and hate, have started to grow beyond her control. She does not trust her newfound Elite friends. Teren Santoro, leader of the Inquisition, wants her dead. And her former friends, Raffaele and the Dagger Society, want to stop her thirst for vengeance. Adelina struggles to cling to the good within her. But how can someone be good, when her very existence depends on darkness?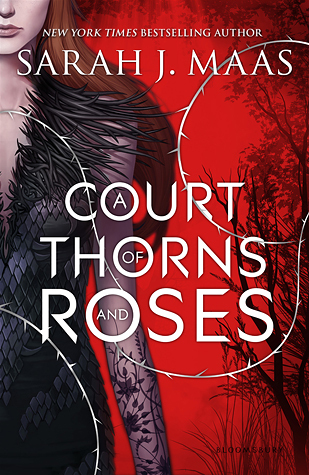 Expected Publication: May 5, 2015
A Court of Thorns and Roses
(A Court of Thorns and Roses, #1)
By: Sarah J. Maas
Thoughts:
The cover is gorgeous, Gods of Olympus, hell, this is gorgeous. I don't know much about this book other than it's fantasy, but I know I will love it. Like most Sarah J. Maas books. Apparently, it's about faeries and Beauty and the Beast? Sounds interesting enough. Hopefully, it'll be as good as it sounds.
Summary from Goodreads:
A thrilling, seductive new series from New York Times bestselling author Sarah J. Maas, blending Beauty and the Beast with faerie lore.

When nineteen-year-old huntress Feyre kills a wolf in the woods, a beast-like creature arrives to demand retribution for it. Dragged to a treacherous magical land she only knows about from legends, Feyre discovers that her captor is not an animal, but Tamlin—one of the lethal, immortal faeries who once ruled their world.

As she dwells on his estate, her feelings for Tamlin transform from icy hostility into a fiery passion that burns through every lie and warning she's been told about the beautiful, dangerous world of the Fae. But an ancient, wicked shadow grows over the faerie lands, and Feyre must find a way to stop it . . . or doom Tamlin—and his world—forever.
Expected Publication: September 1, 2015
The Queen of Shadows
(Throne of Glass #4)
By: Sarah J. Maas
Thoughts:
Oh, would you look at that. Another Sarah J. Maas book

.

It's truly amazing, this series, with all its magic and fantasy and the badass Celaena, of course, and since the series just kept getting better, I have extremely high expectations for this book. DON'T DISAPPOINT ME, SARAH J. MAAS!!!
Summary from Goodreads:
Everyone Celaena Sardothien loves has been taken from her. But she's at last returned to the empire—for vengeance, to rescue her once-glorious kingdom, and to confront the shadows of her past . . .

She will fight for her cousin, a warrior prepared to die just to see her again. She will fight for her friend, a young man trapped in an unspeakable prison. And she will fight for her people, enslaved to a brutal king and awaiting their lost queen's triumphant return.

Celaena's epic journey has captured the hearts and imaginations of millions across the globe. This fourth volume will hold readers rapt as Celaena's story builds to a passionate, agonizing crescendo that might just shatter her world.
Expected Publication: November 10, 2015
Winter
(Lunar Chronicles #4)
By: Marissa Meyer
Thoughts:
I AM SO DAM EXCITED FOR THIS BOOK. I got Fairest a month ago, and the sneak peek of Winter sounded so good. I already loved Jacin, and now I love Winter as well, especially now that I know a few things about her because of Fairest. I want to see Wolflet again, and Kaider.
And I want to see Cinder kick ass and defeat Levana and all that good stuff. And hopefully, it will be a really kick ass, satisfying conclusion.
Summary from Goodreads:
Here is the stunning conclusion to the national bestselling Lunar Chronicles, inspired by Snow White.

When Princess Winter was thirteen, the rumor around the Lunar court was that her glamour would soon be even more breathtaking than that of her stepmother, Queen Levana. In a fit of jealousy, Levana disfigured Winter. Four years later, Winter has sworn off the use of her glamour altogether. Despite her scars, Winter's natural beauty, her grace, and her gentleness are winning admiration from the Lunar people that no amount of mind-control could achieve.

Winter despises her stepmother, but has never dreamed of standing up to her. That is, until she realizes that she may be the only one with the power to confront the queen.

Can Cinder, Prince Kai, Scarlet, Wolf, Cress, Thorne, Princess Winter, and the palace guard Jacin find their happily ever afters? Fans will LOVE this amazing conclusion to the series.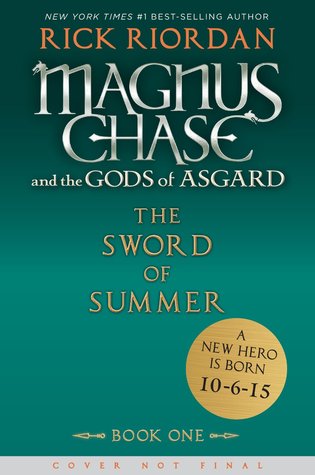 Expected Publication: October 6, 2015
The Sword of Summer
(Magnus Chase and the Gods of Asgard, #1)
By: Rick Riordan
Thoughts:
GODS I WANT THIS BOOK SO BADLY. GIMME DA BOOK, ASAP. *tries to grab virtual book but fails terribly*
I just can't wait to see what Uncle Rick has in store for us in this highly anticipated new series.
Summary from Goodreads:
Magnus Chase has always been a troubled kid. Since his mother's mysterious death, he's lived alone on the streets of Boston, surviving by his wits, keeping one step ahead of the police and the truant officers.

One day, he's tracked down by a man he's never met—a man his mother claimed was dangerous. The man tells him an impossible secret: Magnus is the son of a Norse god.

The Viking myths are true. The gods of Asgard are preparing for war. Trolls, giants and worse monsters are stirring for doomsday. To prevent Ragnarok, Magnus must search the Nine Worlds for a weapon that has been lost for thousands of years.

When an attack by fire giants forces him to choose between his own safety and the lives of hundreds of innocents, Magnus makes a fatal decision.

Sometimes, the only way to start a new life is to die . . .
WELL, THAT'S IT FOR TODAY!
Signing off,
Beatrice