Paper Towns
Author: John Green
Publisher: Speak
Page Number: 305
Genre: Contemporary
Publication Date: September 22, 2009
Synopsis from Goodreads:
Who is the real Margo?

Quentin Jacobsen has spent a lifetime loving the magnificently adventurous Margo Roth Spiegelman from afar. So when she cracks open a window and climbs into his life—dressed like a ninja and summoning him for an ingenious campaign of revenge—he follows. After their all-nighter ends, and a new day breaks, Q arrives at school to discover that Margo, always an enigma, has now become a mystery. But Q soon learns that there are clues—and they're for him. Urged down a disconnected path, the closer he gets, the less Q sees the girl he thought he knew...
My Review:
I don't even know why I do this to myself. I dislike most of Green's books, but they're just like a guilty pleasure to me. So when I picked this up, I thought, Well, here I go again. And I'm going to make all of his fans feel bad because of this negative review. However, when I read it, I somewhat enjoyed it. For some reasons. Which I will tell you now.
Characters:
I liked Margo. She was mysterious, she loved mysteries, and she knew that life wasn't all fun and games. She's really smart, as she leaves all these clues, and fricken stealthy and ninja-y. Her pranks were hilarious and well-thought out, and I enjoyed every one of them.
Q, I'll admit, wasn't as good. However, he did balance out Margo's adventurous and mysterious personality quite well. <3 <3 <3 OTP.
I didn't like Q's choice of friends. Ben seemed perfectly normal in the beginning, but in the middle, he started to get on my nerves.
8 Snowflakes
Plot:
Interesting plot. This was an awesome mystery, and it's probably just Margo, but I really enjoyed reading how the "crew" as I call them, solved each mystery.
9 Snowflakes
Writing:
Green, of course, has this simplistic writing, that didn't work out too well in TFIOS, because he tried to make Gus sound all wise and stuff, so he sort of bounced between the two awkwardly. However, in Paper Towns, since he didn't have to make the characters sound Shakespearean, it flowed more. However, I still have a problem with his writing. It was boring and slow paced, and I just didn't enjoy it.
7 Snowflakes
Cover:
Okay, I know the one that I have displayed is the pretty cover-but the one I read, from the library, because I ain't spending my money on a John Green book, was HIDEOUS. You know, it's the one with the head...this one...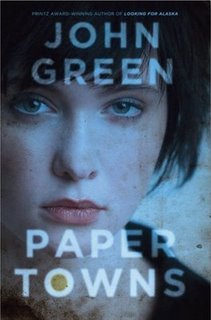 So that one, I give like 1 Snowflakes to. But the one above, I like. So I give 10 Snowflakes.
So I'm gonna average the two up...and get
6 Snowflakes
Final Rating:
❄❄❄❄❄❄❄
~Beatrice
Links:
Goodreads:
https://www.goodreads.com/book/show/6442769-paper-towns
Book Depository:
http://www.bookdepository.com/Paper-Towns-John-Green/9780525478188
Amazon:
http://www.amazon.com/Paper-Towns-John-Green/dp/014241493X/ref=sr_1_1?ie=UTF8&qid=1430072952&sr=8-1&keywords=paper+towns
Author Goodreads Profile:
https://www.goodreads.com/author/show/1406384.John_Green